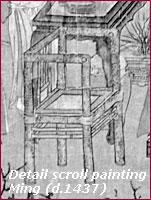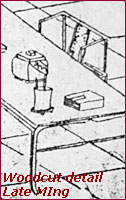 The rose chair is characterized by its relatively low height, small size, and angular construction with straight-member back and armrests. The design was likely drawn from the traditional bamboo chair with its continuous frame members bent to ninety-degree angles and lattice-work panels made of smaller-diameter bamboo.
This chair's association with the ladies quarters is based primarily on the small size as well as the effeminate term 'rose chair' (meiguiyi) for which no pre-20th century evidence exists. Another term 'scholar's chair' (wenyi) is backed by its frequent depiction in scholarly settings in late Ming and early Qing period paintings and woodcuts.
Because of their low height and straight backs, this chair was also well suited for arrangement against a wall and under window openings. While pleasant to look at, the straight backrest of the rose chair was not intended for relaxation like the ergonomic backrests of other traditional chairs.