Type in a keyword of phrase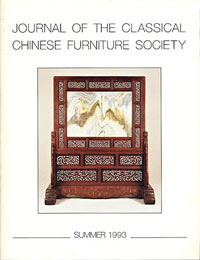 Journal of the Classical Chinese Furniture Society, Summer 1993
Classical Chinese Furniture Society

Vol. II, Number four, 72 pp., fully illustrated, Renaissance, 1993.


Handler, Sarah. The Chinese Screen: Movable Walls to Divide, Enhance, and Beautify.
Yang Naiji. The Beauty of Perfect Roundness.
Keppel, Shiela. The Well-Furnished Tomb, Part II.
Flynn, Brian. Robert and William Drummond and Dynasty Furniture.
Drummond, William. Chinese Furniture: The Sackler Collections.
Jeanne Chapman. The Baltimore Museum's 1946 Exhibition of Chinese Furniture.
$25.00